Saturday, October 30, 2004
My Favorite Cause
Proud Member of the Alliance

Glenn Reynolds Says
"UnfetteredOne is like a breath of fresh air to the blogosphere. She is Ned Flanders in a Homer Simpson world."
My Favorite Blogs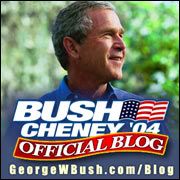 About Me
Name: UnfetteredOne
Location: Texas, United States
I am a conservative christian, a homeschooling mom, a college student, (history major, political science minor), a registered Republic and a proud American.
Previous Posts